Hand grown produce from Carpinteria, CA since 1871
Buy Fresh Fruit Direct
No Sprays. No Pesticides. Allowing Nature to Produce the Best Fruit Possible.
About Us
6TH GENERATION FARMING
Rincon Tropics was created by 6th generation Carpinteria, CA farmer Nick Brown. Growing up on the ranch, and working at the family farmers market booth since he was a teenager, the company and brand are the latest iteration of providing the freshest and highest quality produce directly to consumers in as few steps as possible. Continue reading Our Story…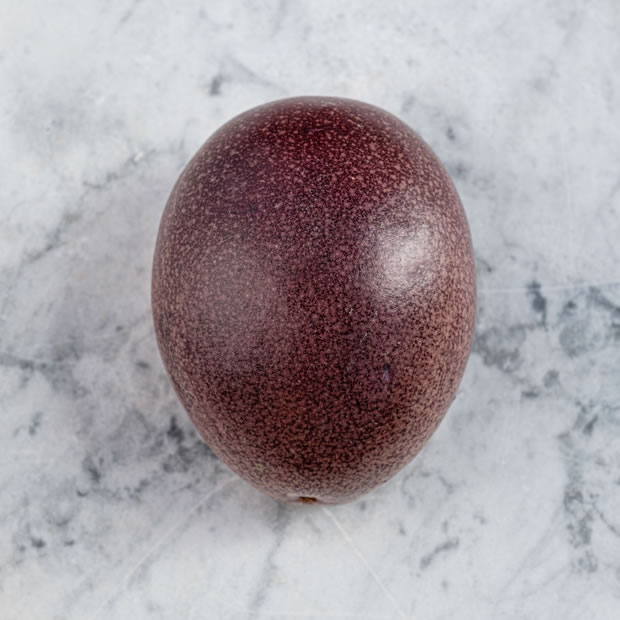 Passionfruit
This subtropical powerhouse of a fruit is another one of our specialties. Grown on a vine and harvested daily during the season, the passionfruit naturally falls off of the vine when it is mature. From that point, the fruit is technically ripe and ready to eat. The smoother the purplish red outer shell is, the more tart and acidic the pulp inside will be. The longer you let it sit on the counter, the more wrinkled it will get, allowing more time for the juice to become sweeter, but there will be a little less juice the longer you wait. The seeds and pulp are all edible and very nutritious. Best uses: Passionfruit is best enjoyed as is, with yogurt or ice cream, mixed into dressings and marinades, or mixed into frostings, cakes and pastries. Makes an excellent addition to cocktails and syrups.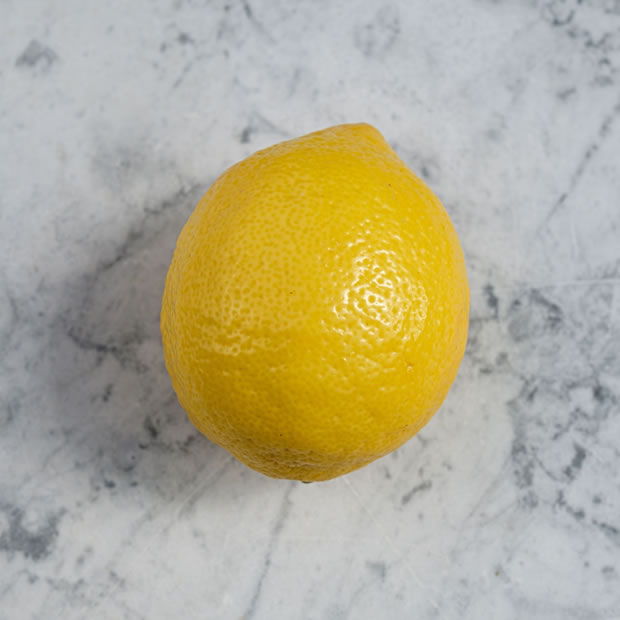 Eureka Lemons
We grow limited amounts of lemons, with both the Eureka and Meyer varieties. Eureka lemons are a more old school, lemony lemon with high acidity, and lots of juice. The peel is excellent for zesting and they have a very long shelf life. Meyer lemons are much less acidic, and are more of an orange flavored lemon. Their peel is much thinner and softer giving a mature Meyer lemon a very short shelf life. None of our citrus is ever sprayed or treated with a wax coat, meaning you are getting a fresh and totally edible fruit that hasn't been sitting in a cooler for weeks.
Bearss Limes
Bearss Lime, also known as Persian or Tahiti Limes are a cross between a Key Lime and a lemon. Typically seedless, this aromatic and potent flavored lime is great for getting juice and zest for all of your cooking and drinking needs. More mature limes will have a more yellow tint to them instead of the signature 'lime green'. This is typically a juicier stage of maturity for this fruit.
cherimoyas
Native to south and central america, the Cherimoya is also perfectly suited to grow on our coastal hills in Carpinteria, CA. My dad and his family are the ones responsible for introducing this fruit commercially to the United States, with Carpinteria being one of the few places in the country with large scale commercial plantings. We have been specializing in Cherimoyas for over 40 years now and have developed 3 varieties that are unique to our ranch, and patented one of them, the "Rincon" variety. The "Lisa" and the "Bonita" are also our creations. The Cherimoya, when slightly soft and ripe, tastes like a custard that has flavors of banana, pineapple, and mango. It is light, creamy, incredibly sweet, and juicy. The black seeds inside are poisonous when consumed, so they must be removed. Best uses: as is, with citrus juice or passionfruit on top. In smoothies (without the seeds), fruit salads, or made into ice cream or sorbet. Mark Twain said of the Cherimoya, "…Deliciousness itself".
Holiday Gift Box
Holiday mixed box of in-season* fresh fruit, including Passion Fruit, Eureka Lemons, and Feijoas/Pineapple Guavas, Limes.
Each box comes with one (1) half-pound bag of Hoshigaki Japanese style air dried and hand massaged Persimmons. These have been curing for almost 10 weeks and are a very special treat. Enjoy as you would any other dried fruit, and store in similar conditions or in the freezer for best results. Very limited quantities.
Pineapple Guava/Feijoa
A very seasonal subtropical fruit, the Pineapple is native to Brazil, but grows very well in our subtropical climate. Harvest usually begins in the Fall and goes for a month or two. The fruit naturally drops off of the tree when mature, and can be eaten soon after. The softer you let the fruit get, the sweeter it gets, but it will always have a tangy sweet flavor. The seeds inside are tiny and edible, so the easiest way to eat them is to cut them in half and scoop them out, like a kiwi. Very high in fiber and vitamin C, these are the perfect Fall and winter treat. Best uses: As is, in fruit salads, or made into jams, jellies, or sorbets.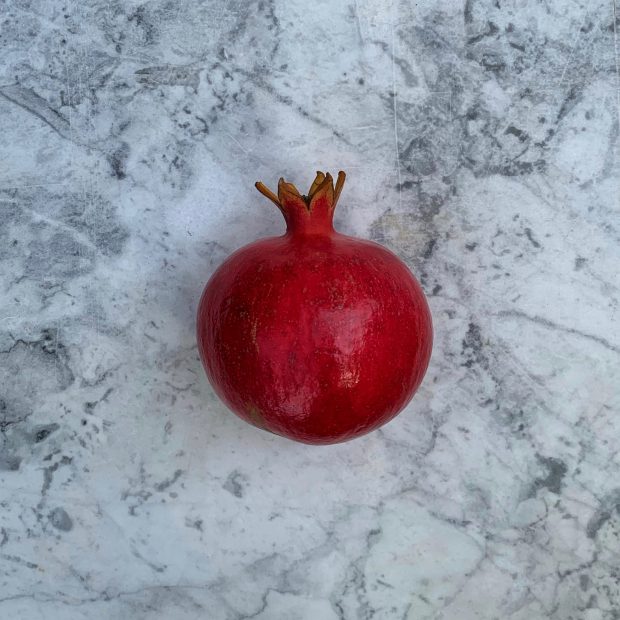 Pomegranate
Pomegranates are a wonderful Fall fruit that is packed with antioxidants and bursting with flavor. The little packets of juice intricately nestled within the peel are called arils and with some patience and practice, you will be rewarded with spoonful after spoonful of delicious juice. The fruit is very sturdy and doesn't need to be eaten immediately, but can be used as table decoration as well before enjoying. The arils can also be frozen for up to a year if they have been removed from the fruit. Sweet, juicy, tart and crunchy, pomegranates have it all!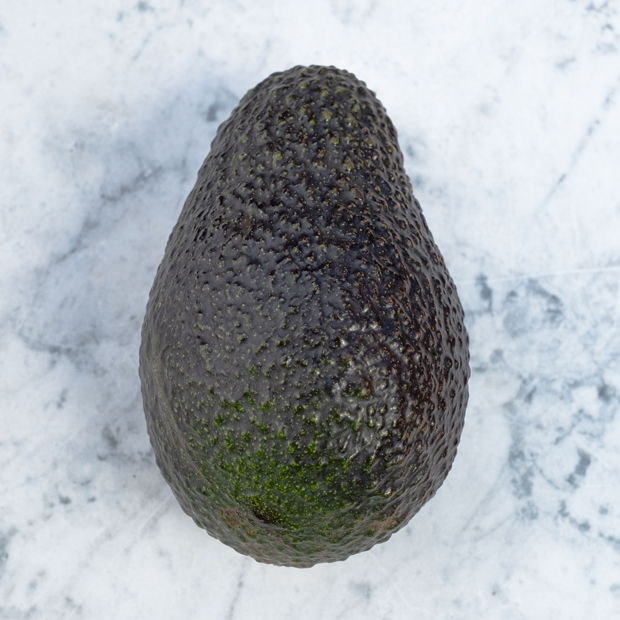 Hass Avocados
A commercial standout, the Hass avocado is widely known for being a reliable and readily available fruit. The season ranges from January until Summer commercially, but we do not start to pick our fruit until it has been on the trees for at least a year, when most growers start picking after the minimum nine months. The longer the fruit remains on the tree, the higher the oil content and creaminess of the fruit. We won't pick and sell a fruit unless it meets our high standards of quality and flavor. Hass avocados will darken on the outside as they start to ripen and soften. Once slightly soft, but not squishy, they are ready to eat, or refrigerate. Best uses: Hass avocados are extremely versatile and good plain, in salads, on bread and toast, or as a side to almost any dish you are making.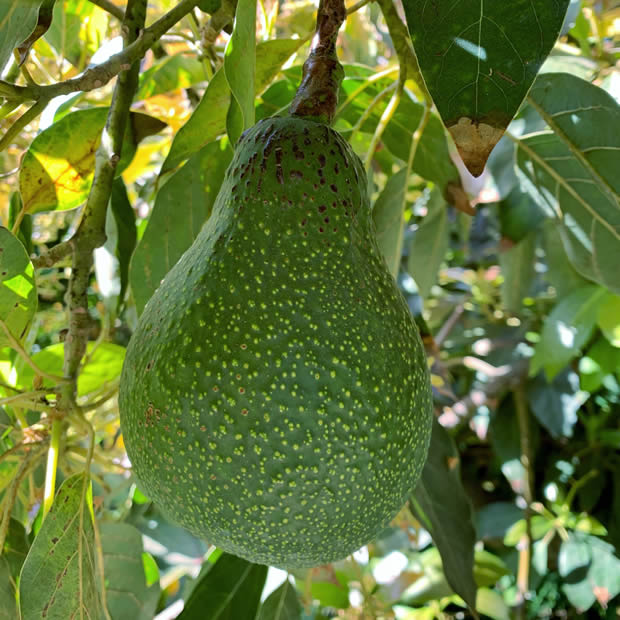 Heirloom Macarthur avocados
The Macarthur avocado is an heirloom (very old) variety that used to be grown more commercially but was abandoned for other varieties that required less time on the tree. We do not pick our Macarthurs until they have been on the tree for at least 18 months! This gives the rare fruit and incredible silky and creamy taste and texture, similar to a creamy olive oil. It is not uncommon for the seed of this fruit at this age to start to sprout inside the unopened fruit. This is perfectly normal, and is a sign of it's maturity. The skin of the Macarthur will not change color as it ripens, and stays green. It is ripe when it is slightly soft, and can be eaten over several days if it is stored in the refrigerator. Best uses: everything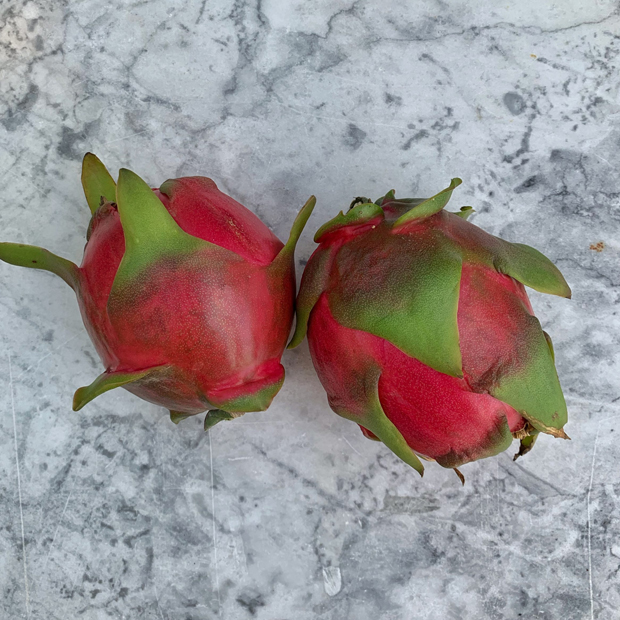 Dragonfruit
Dragonfruit, also known as Pitaya, is a fruit that comes from a cactus plant. Its showy flowers only open at night and last for one evening. There are multiple varieties of dragonfruit, with slightly different looks and flavors. We grow pink and purple fleshed fruits, that are known for their sweetness and rich flavor. The little black seeds are edible, and the fruit is best served chilled. Great in smoothies, cocktails, fruit salads, and on its own. This rare, and striking looking fruit is like eating a sweet snow cone and is the texture of a kiwi and a pear combined. Ripe when you receive it, either eat it, fridge it, or freeze it for use in smoothies later.